We now have the Collaboration feature in Quizizz. Users may now share quizzes, lessons, and reports with other teachers from the same school or district.
Select a quiz from your library and click on the Share button. You can then select whether to give edit or view access to your school or district as shown below.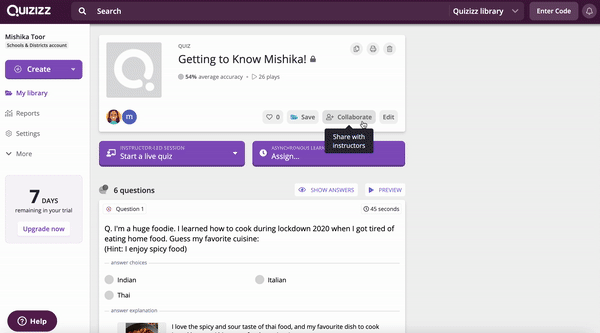 You can click the Shared with me folder under your collections in the library to view all the quizzes which others have shared access.
You can also share reports with other instructors. Once a game has been played or assigned quiz is finished, you can click the Share report button on the report which you would like to give view or edit access to share reports within your school or district as shown below.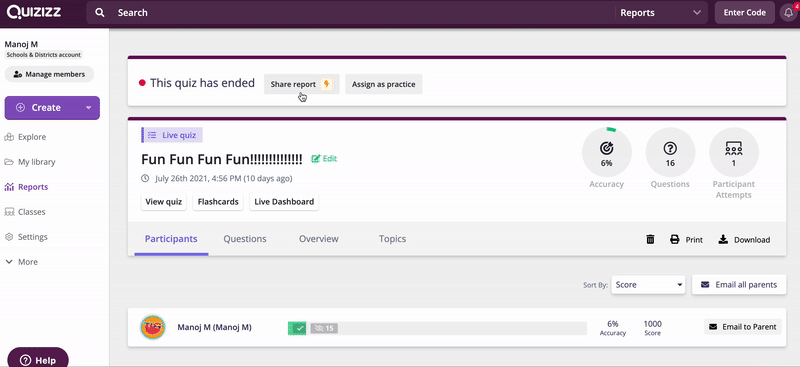 You can still share individual quizzes by sharing the link with other users. If you need to share a report, you can also download and share it.
Note: If you would like to add collaborators to your classes so they can automatically access reports and assign quizzes to your students, consider adding co-teachers to your classes. To learn more about this, click here. 
Keyword: Share access with teachers, how to add teachers to quizzes and lessons, I want to share collections with other collaborators, how to let other teachers to edit and view my quizzes and lessons