The Comprehension question type presents students with a passage or media, based on which they can answer a series of questions. This helps break down a complex question into multiple parts. 
The Comprehension question type is currently free to use while in its Beta stage.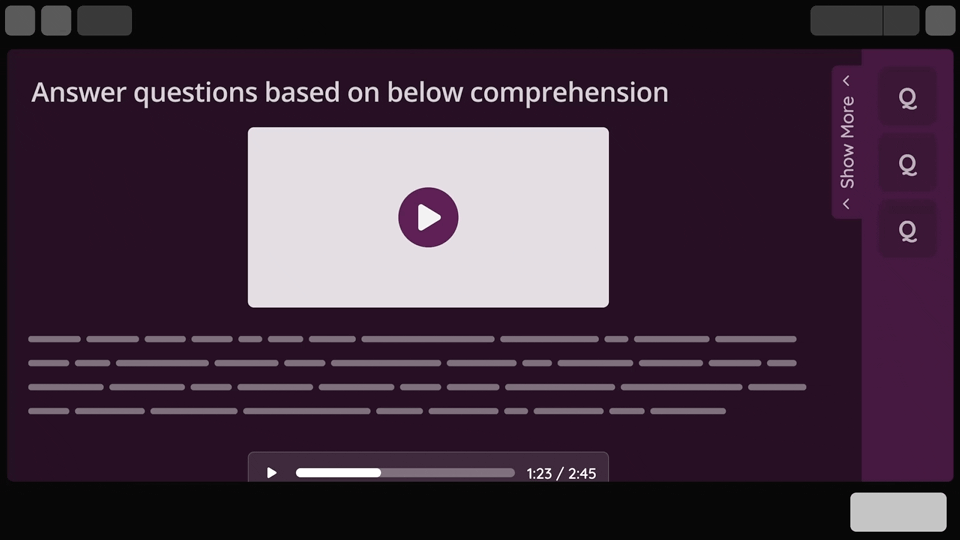 Comprehension Questions: An Overview
The Comprehension question type consists of three major parts, and we'll take a closer look at each of them below. Here's a quick snapshot:
1. Creating passages
Create passages with text, audio, video, and images (OR)
Upload PDFs for students to refer to (OR)
Generate passages with Quizizz AI! 
2. Creating questions
Create as many questions as you want using Multiple Choice, Fill in the Blank, and Open-ended questions (OR) 
Automatically generate questions from your passage or PDF using Quizizz AI!
3. Student-side experience 
Students will be able to refer to the passage, video, or PDF while answering a Comprehension question 
They can also use the PDF editor to highlight, annotate, or make notes for themselves while answering questions. But, these annotations will not be saved for teachers to refer to
Note: Comprehension questions can only be used while creating Quizzes, and not in Lessons. 
Creating a Comprehension question
Note that a Comprehension question can contain only:
Multiple Choice questions (with single or multiple correct answers)
Open-ended questions 
Fill in the Blank questions 
Here are the steps you can follow to create one:
Begin by creating a new quiz or editing an existing quiz. 
To create a new quiz, click on 'Create' on the left navigation pane and select the 'Quiz' option. Next, click on 'Create from scratch' and select 'Comprehension' from the list of available question types.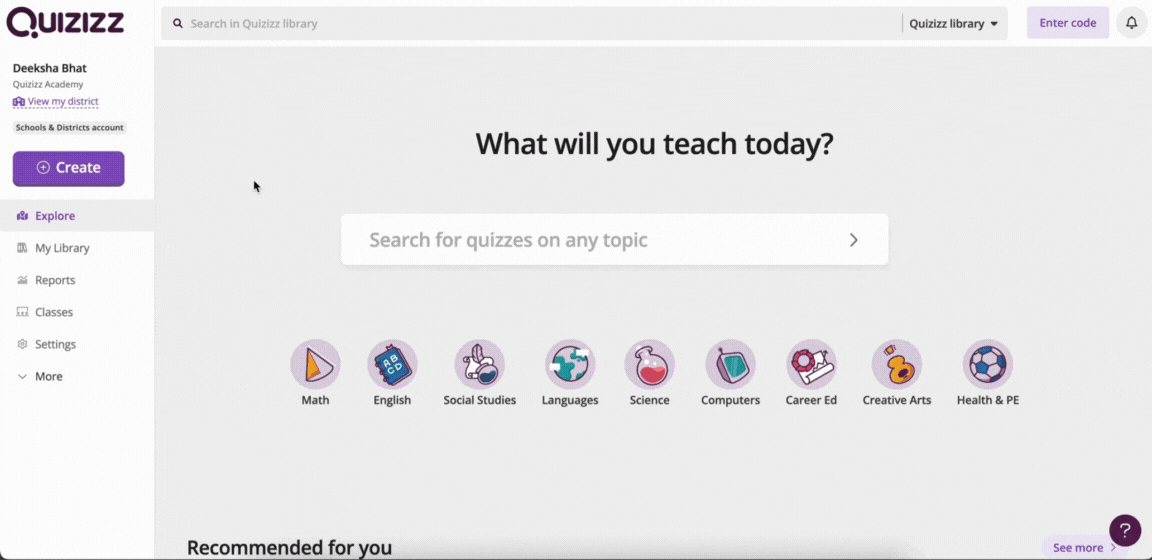 Creating the reference material:
Select the format in which you want to present the material for comprehension. You can choose any one of three options:
Text & media:

With this option, you can type or paste your content in the text box. You can  also format your text, add bullet points, and insert images, videos, or audio clips






Upload PDF:

Click on this option to upload any of your existing PDF files. Once uploaded, you can mark up the file using the pencil tool, add text, or insert images. Interactive PDFs with hyperlinks are also supported here






Generate with AI: Click on this option to enter any topic or describe the type of reading passage, summary, or lab experiment you want the AI to generate. Select your language, grade level, and number of passages, and click on generate. You'll be taken to another screen where you can add follow-up topics to generate more specific content 


Adding Questions
You can add Multiple Choice, Fill in the Blank, or Open-ended questions manually. Or, if you're short on time, you can choose to automatically generate questions with Quizizz AI! 
Generate from AI: Just click on the 'Generate using AI' button and pick the number and type of questions you want it to generate. 
Adding questions manually: 

Add your first question by choosing between Multiple Choice, Fill in the Blank, and Open-ended questions





Enter your question and the answer options (in the case of MCQs). You can also 

add images, audio, video, and equations to your question
add an answer explanation if required 
set the points to be allotted to the question
set the time allotted to the question
tag standards to the question 





Click on 'Save question'
Add your remaining questions by choosing from the three question types at the bottom of your screen 




While creating your questions, you can click on the 'Preview Comprehension' tab to view the material you have added 




Once you've added all the questions you need, you can:

click on them to edit them 
drag and drop them to rearrange them 
hover on them and click on the trash can icon to delete them 





Set the overall timer for your comprehension question to ensure students have ample time to read the material 




Click on 'Save question'
Repeat these steps to add as many Comprehension questions as you'd like, and click on 'Publish'. Your quiz can now be hosted live or assigned as homework.  
Student Experience
When students attempt a Comprehension question, they will be able to view the comprehension material on the left, and a list of all the questions they need to answer on the right. 
The questions do not have to be answered in the order in which they appear. Students can click on any of the questions to answer them. 
While they answer the question, they can click on the left and right arrow icons to switch between questions. They can also click on the 'See all Qs' button to see a complete list of the questions to be answered. 
Students can click on the 'Submit' button after each question they answer. Once all the questions for a comprehension passage have been answered and submitted, students will be able to move on to the next question in the quiz. 
Viewing comprehension questions in reports 
Within a report, you will be able to see responses for each of the questions within a Comprehension question separately. Click on the 'Questions' tab or the 'Overview' tab to see how students have responded to each question.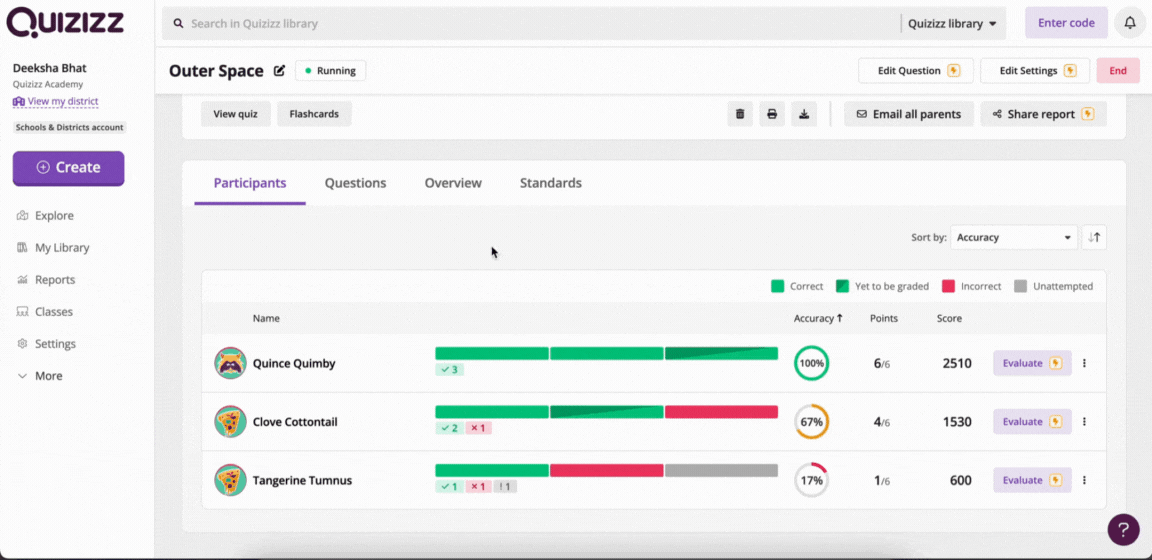 Every question within a Comprehension question can be tagged to a separate standard. So, you can also click on the 'Standards' tab to gain insights on accuracy per standard. 
Note: 
A Power-up, when applied, will affect only one question within the Comprehension question