Integrate Quizizz with Google Classroom to drive maximum classroom engagement along with automatic updates to grades, reports, and quizzes.
Starting August 2022, some functionalities of the Google Classroom integration will only be available to users on a School or District plan.
This table lists all the functionalities available per the Quizizz plan.
Functionality

Quizizz Basic Plan

and Quizizz Super Plan

Quizizz School and

District Plan

Assigning activities through Google Classroom

✅

✅

Automatic syncing of grades from Quizizz to Google Classroom

✅

Accessing your student rosters
(Viewing your Google Classroom(s) on Quizizz)

✅

Automatic Syncing your class lists from Google Classroom to Quizizz

✅

✅

Adding a custom grade while assigning an activity

✅

Tracking individual and class performance data over a period of time

✅
To integrate Quizizz with Google Classroom, follow these steps:
Have an active Quizizz Account

Create a class on Google Classroom
On Quizizz, click on Classes on the left navigation pane

Click on the Google Classroom button under the 'or import existing via' phrase

Select the account that has to be synced with Google Classroom. Usually, this is your professional account linked with a school/college/district



You can select the option that requires students share the parent/guardian email address for sharing reports of live quizzes or assignments

You have now successfully integrated Google Classroom with Quizizz.

To check the student roster of a particular class, click on a class under 'My classes'

You can see the individual student roster details (along with the option to add the parent/guardian email address) if you click on the 3 dots at the right end of every row

You also have the option to remove a particular student from a class.

All actions on Quizizz trigger the same action on the Google Classroom application.
You do not have to repeat any of the above steps.
Note: Your LMS is updated when new classes are added. You will need to access them via Quizizz classes. Click on 'Refresh Roster' to import a new class. You will need to archive old/inactive classes on Quizizz.
To assign a quiz as homework via Google Classroom, follow these steps:
Create a quiz by creating questions or teleporting questions from the publicly available quizzes

Once it is published, click on 'Assign Homework'

Click on 'Assign to a class'.

Select the correct class. You can also click on the 'Pick specific students' option to assign the quiz to selected students

Select the grading or manually assign a grade (applicable to Super and Schools and District Plans) and name the quiz appropriately

Click on 'Next'

Click on the purple 'Assign' bar again

You will see that the Quiz has been assigned to Google Classroom under the Reports Tab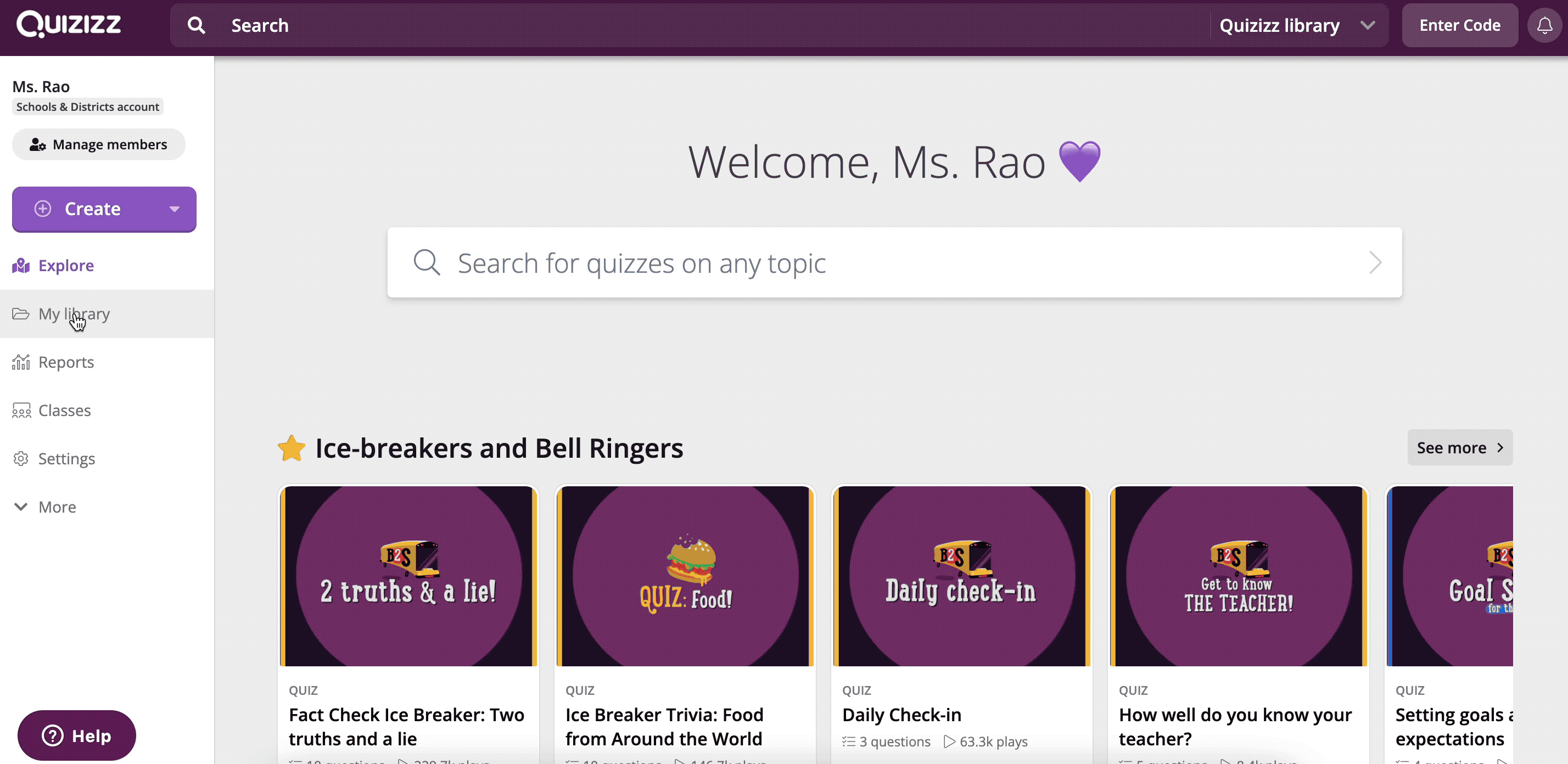 To host a live quiz via Google Classroom, follow these steps:
Create a quiz by creating questions or teleporting questions from the publicly available quizzes

Once it is published, click on 'Start a live quiz'

Choose between 'Classic' (students progress at their own pace) and Instructor based (control the pace so that all students proceed from one question to the other)

Choose the mode that suits best: Team, Classic, Test

Click on 'Assign to a class'

Select the correct class. You can also click on the 'Pick specific students' option to assign the quiz to selected students

Select the grading or manually assign a grade (applicable to Super and Schools and District Plans) and name the quiz appropriately

Click on the purple 'Assign' bar again

Once the game is live, all students will receive the quiz code via Google Classroom

Students can join the quiz on any device using

www.joinmyquiz.com

Start the quiz when all students have joined the quiz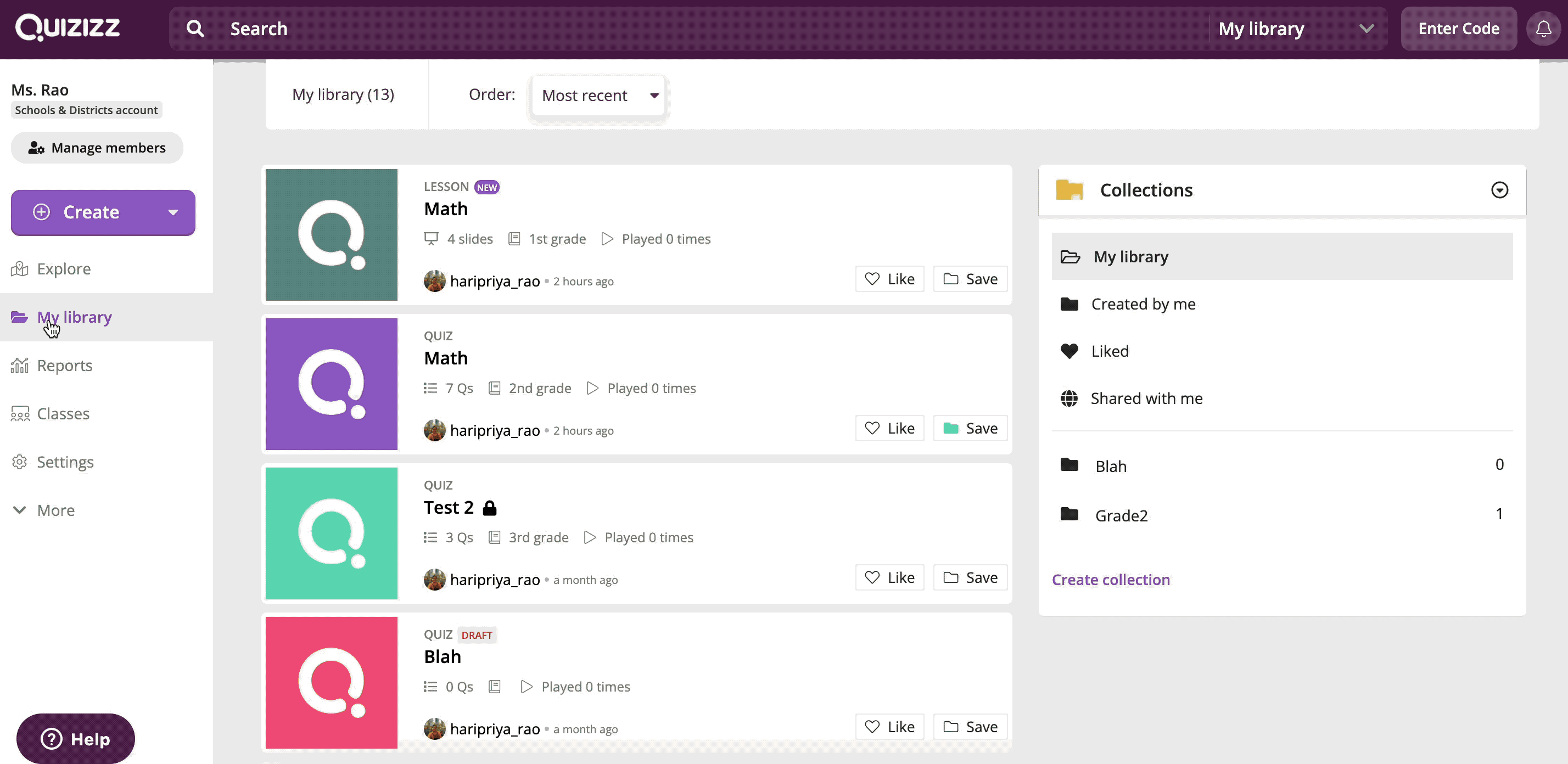 Keyword: Google Classroom X Quizizz Integration, how to integrate Google with Quizizz, I want to add google classroom to quizizz for students