Paper Mode is a live game mode that enables you to drive engagement and support every student by blending physical and digital learning. With Paper Mode, you can bring Quizizz into your classroom even if all your students do not have personal devices.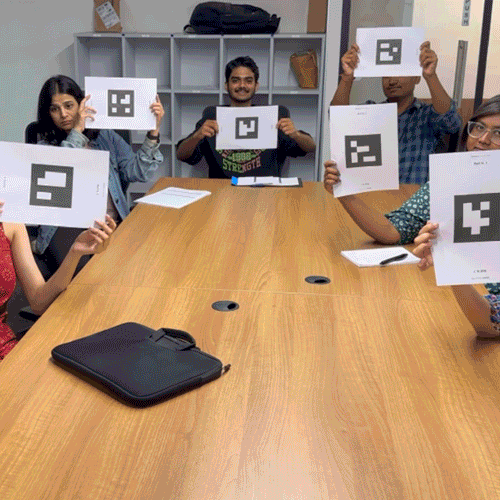 To conduct a quiz in Paper Mode, project the quiz questions on your computer. Your students can attempt these questions by holding up personalized QR Codes. Scan these codes using the Quizizz mobile app to record their attempts.

Paper Mode provides you with insights into student responses as you scan. You can also get detailed reports on class performance as soon as the quiz ends.
How does it work?
Every student gets a unique, printed Q-card
This card consists of a specialized QR code. It is numbered so you can easily keep track of all your participants





The four sides of the Q-Card are marked A, B, C, and D.

These letters correspond to the four different answer options for a Multiple Choice Question

When presented with a question, students rotate and display their Q-cards such that the correct answer option is on top


The Q-cards are then scanned using your Quizizz mobile app to record student responses
How do I host a quiz in Paper Mode?
You can:

choose one of your existing quizzes under 'My Library', or
select any of the quizzes created by the teacher community on Quizizz

Ensure that your quiz only contains Multiple Choice Questions with a maximum of four answer options each. If there are any questions in your quiz that are not MCQs, they will automatically be skipped while playing the quiz
Click on 'Paper Mode'. If you don't see the Paper Mode button, click on 'Start a live quiz' and find 'Paper Mode' in the dropdown menu





Click on the 'Print' button to access a PDF with printable Q-cards. The file contains 60 Q-cards, so it can support up to 60 participants per quiz




Print the required number of Q-cards

You can choose to manually make a note of the Q-card number you assign to each student. Or, you can allow Quizizz to keep track of these numbers by assigning Q-cards via a Paper Mode Group or one of your classes on Quizizz. This will allow you to view participant names on your mobile screen as you scan responses.

To assign Q-cards to a Paper Mode Group, follow these steps:



Select 'Create new group' from the drop-down menu
Enter a name for the group
Enter a student's name against each participant number
You can reorder the names, edit them, delete them, or add new participants
Click on 'Save'

To assign Q-cards to a class, follow these steps:

Prerequisite: Classes need to have been created or imported into your Quizizz account before Q-cards can be assigned to them. To learn more about this, click here.





Select 'Assign to class' from the drop-down menu
Select the class to which youwould like to assign the Q-cards
Review the list of student names against their assigned participant numbers
You can reorder the names, edit them, delete them, or add new participants. Note that any of the changes you make here will not modify your existing class
Click on 'Save'

Once you have assigned the Q-cards to a class or group, you can:

Click on 'View list' to view the list of students and their assigned participant numbers
Click on the three dots next to 'View list' to edit the list of students or unassign the Q-cards
Click on 'Modify' to change the group or class to which the cards have been assigned



Hand each student their assigned Q-card
Demonstrate to your students how these Q-cards are meant to be used. Remind them to:


Hold the card upright
Ensure they are not tilting the card
Ensure they are not blocking the QR code on their card




Rotate the Q-cards to change the options
Ensure that the correct option is above the QR code



On your computer screen, check the boxes under the list of prerequisites and click on 'Start'




Ensure that your computer screen is visible to all your students. You can also project the quiz on a larger screen if required
Download the Quizizz app on your phone from the App Store or Play Store
Log into the app with the same Quizizz account you use on your computer
Tap 'Start' on the home screen of your Quizizz mobile app to open Paper Mode




Select your quiz from the list of running quizzes


Grant the app permission to access your camera. This is a one-time process




The first question will be displayed on the computer screen for your students to read. It will also be visible on your mobile app. If you wish to skip the question, tap the 'Skip' button on your mobile screen. Note that a question once skipped will not be shown again



Prompt your students to raise their Q-cards to answer the question
Once all of your students have raised their Q-cards, tap 'Scan responses' on your mobile app




Point your phone camera at your students and scan all their raised Q-cards. Ensure that you are holding your phone in portrait mode
If you assigned Q-cards via a group or class, you will be able to see the names of your participants on your phone screen as you scan their responses. You will also be able to see the total number of responses scanned at the bottom of your phone screen




If any errors occur while scanning, tap 'Clear' on your phone screen and begin scanning again
Once all the Q-cards have been scanned, tap 'Submit' on your phone screen
Your phone screen will display an overview of your classroom's performance in the question they just answered




Tap the arrow next to the number of responses on your phone screen to view the names of the students who answered the question correctly or incorrectly




Meanwhile, your computer screen will display the overall accuracy of your classroom along with the points and rank secured by each student. This will be visible to your entire class




Tap 'Next question' on your phone screen to proceed
Repeat this process until all questions have been answered
Once the quiz is complete, tap 'End quiz' on your mobile screen to generate a report



Once the quiz is complete, your computer screen will display class accuracy along with an overview of your students' performance in the quiz
Click on the 'Question' tab on your computer screen to view your students' performance in each question




Tap 'View report' on your phone screen to view a detailed report on the quiz




You can also click on 'Exit' on your computer screen to view the same report on your computer




You can edit, download, print, or share this report with other stakeholders
Note:
Q-cards can be reused for every quiz that you host in Paper Mode. You do not need to print fresh copies for each quiz. Consider laminating your Q-cards to help them last longer
Reports for quizzes hosted in this game mode will state 'Paper Mode' under the 'Type' column in 'Reports'
You will still be able to manually evaluate responses to questions in a Paper Mode quiz report
Keyword: What is paper mode, how can I use paper mode, how do I host a quiz in paper mode, Q-cards, assigning Q-cards, how do I assign Q-cards, how do I use QR codes in paper mode, how can I use Q-cards in paper mode