On Quizizz, the share button allows you to share a quiz with other instructors.
Sharing a quiz is different than assigning a quiz, starting a live quiz or sharing a game code or join link with your students.
To do this, go into your library and select the quiz you'd like to share with an instructor. Click the share button to open the modal as shown below.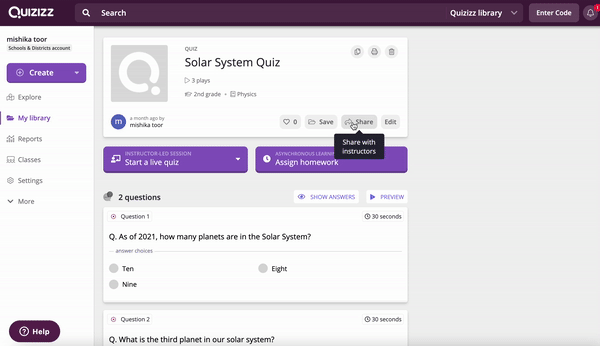 The following pop up modal should help you with the following:
If you are part of a school and districts plan, you can change your settings to allow other teachers in your school to view or edit your quiz
You can receive a public link to be copied and pasted onto anywhere you like. This could include social media platforms, documents or emails
You can directly add emails into the "add people via email address" bar as well. The settings can be changed through the dropdown to allow invitees to view or edit.
You can also share a private quiz following the same process, This quiz will only be available only to the person who gets the email/link.


Keyword: Share quiz, share my library, my collections, collaboration